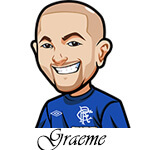 My incredible hot streak continued with an amazing TWO outright winners last week, plus a place in the LPGA.
It could have been even better too as we went into the final round of the European Tour with THREE 50/1 or higher golfers in the Top 5. Alas none of them could maintain their form and all ended up outside the top 5.
Anyway what a hell of a week that was. Here are the winning betting slips from last week:




A couple of things I want to quickly note prior to this weeks tips:
This run is unsustainable. 4 outright winners in 3 weeks is incredible, never mind the Top 5s that have cashed too. However this run won't continue. Don't go crazy with bets and risking it all – practise proper bankroll management, have at least a 100 unit bankroll and bet accordingly.
My unit sizing. The way I do unit bets is different on golf than other sports. On a sport like NHL I'll do 1, 3 and 5 unit bets for example depending on my confidence. With golf, I bet 1/4, 1/2 and 1 unit. It's just the way I do things and how I'm comfortable with it. So if you see me recommending a 1 unit play, that would reflect your strongest play(ie: 5 units).
Increasing my unit amount. I'm going to be more than doubling my unit amount. My current unit amount is $400 and I'm making the leap to $1,000 per unit. This is something I've considered for awhile, and I feel comfortable with the jump now.
I'm letting you know that because even though I don't think it will, it's very possible it will affect my tips or bets for the next couple weeks. For example if I put up a big fat 0 this week with all losses, I may subconsciously react to that next week. So just something to bear in mind. Hopefully that doesn't happen, but it's always a risk when you don't progressively increase your betting units and do it in one big jump like this.
Alright with all that said, on with the tips. No social block this week. If you have a website or a blog I'd appreciate your throwing a link to the site on there. I don't charge for these and all I want is as many eyeballs on them as possible!
I'm skipping the Hero Indian Open this week. Just one year of course data and nothing specific stands out from last years data.
Valspar Championship Betting Tips:
This is a tough course and it's pulled off quite a few big underdog wins over the years. Hadwin last year at 125/1, Senden at 125/1 in 2014 and Streelman at 200/1 in 2013. Would be nice!
Looking at the stats, course consistency isn't a given. If you've performed well here before you CAN perform well here but no guarantees. Then there are people who are always hanging about the top like Kuchar who has gotten 9th, 10th, 14th, 11th and 12th over the years.
Henrik Stenson: He's only played 3 events here but has the best average finish of anyone who has played multiple events. He hasn't played since that disappointing performance at the Maybank but I mean he still made the cut and finished under par. He's playing with Woods and Spieth so that should be good to watch. At his price, he's worth 1/4 unit to win & E/W.
Webb Simpson: Slightly disappointing that he couldn't cash last week. He's performed well here in the past and I thought he did okay at the WGC. Price is juuust right for a 1/4 unit to win & E/W.
Chesson Hadley: He's performed well here in the past and he stands out juuust enough on my key metrics for this course to warrant a 1/4 unit to win & E/W bet.
That's it for this week. I've been so close to backing Tiger Woods this week but I feel like it's one of those where I'm trying to convince myself to bet him ya know? This is a tough course and it's hard to bet him really based on the back of one solid tournament. I'm betting him but I just can't advise it.