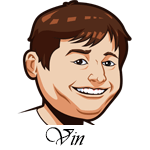 Follow @SBTSportBetting


[Get Exclusive Tips on our Patreon, Ad-Free
]
3-7 last week with another two losses by less than a field goal. Frustrating. That puts us at 50-51 for the season. Time to get that back.
I am going to tighten up my tips going forward as we're just reaching that point in the season where the games are a bit more tight and a bit more serious. For the first time all season there are more games that I want to watch than I want to bet on.
Seven college football tips on Patreon, three are below.
Sign-up for Patreon now to get a full month of NFL, college football, NBA, NHL Advanced Metrics, and World Cup betting tips. There is no charge until December 1st so you can sign up today and cancel before the end of the month if you don't like it.
We are now posting some of our betting tips exclusively on
Patreon
, as well as posting exclusive betting tips there. Here is what you get by supporting us on Patreon:
Exclusive betting tips. Not just the tips omitted from these posts, but Graeme will have bets on every World Cup game.
Ad-free experience.
Priority e-mails; receive the e-mails as soon as the tips are posted rather than hours later.
Feeling good about supporting two guys who have worked their butts off writing sports tips on here for free for over 10 years. We promise only to spend it on beer and wings at our local sports bars!

Oregon State vs. Washington Betting Tips:
Washington is undefeated at home this season and the two losses on the schedule were close. I really like this offense and I think Michael Penix is a star at quarterback. He can make things happen.
Oregon State is playing their fourth road game of the year and they have been a much different team on the road. A 26-point loss to Utah, a 3-point win against Fresno State, and a 1-point win against Stanford are not encouraging to me. This isn't Hawk and Animal, they are not road warriors.
Washington -4.5
Bet Horse Racing - +£21,565.98 profit on £25/pt staking. Click for more details.
(Advertisement but we have tested it out and have been quite impressed with it)
Oklahoma State vs. Kansas Betting Tips:


Tennessee vs. Georgia Betting Tips:
This is the game of the year thus far and the winner is guaranteed a spot in the playoffs. The loser will probably end up there too, but still. This is big.
Georgia hasn't had an opponent on the schedule that was anywhere near this level all season. The closest you can say is maybe Oregon, but I don't think they are on the level. The second best team they faced was South Carolina so, yeah, not much to work with there. The defense has yet to be tested and they will be tested in a major way here.
Tennessee's offense is relentless. They play at an incredible pace and they are not afraid of anyone. The Alabama win was legendary, but that was then and this is now. Georgia is a better team.
The total here is set hit, but I think it's still worth a bet. Both of these teams are not shy about scoring points and the offenses have some major weapons. Tennessee has allowed 33 and 49 points in games this year. Georgia's max points allowed all season is 22 which they allowed against Kent State and Missouri. Like I said, they haven't seen anything like this all season and it will be a major test.
I am also taking Tennessee with the points here. There is a chance they can win outright, but I really think this is just a tighter game similar to Tennessee/Alabama. It may just be a matter of who has the ball last.
Tennessee/Georgia Over 66.5
Tennessee +8.5
Bet Horse Racing - +£21,565.98 profit on £25/pt staking. Click for more details.
(Advertisement but we have tested it out and have been quite impressed with it)
Texas vs. Kansas State Betting Tips:


Clemson vs. Notre Dame Betting Tips:
I was dead wrong about Notre Dame last week as they dominated against Syracuse. This team has been extremely up-and-down all season, but they seem to be putting it together. This will be their biggest test of the season and a real chance to grab some headlines.
Clemson is good, but they have also been extremely lucky. Wake Forest, Syracuse, and Florida State all nearly beat them with all of those games being decided by six points. I truly don't think they end this season undefeated or make the playoff and I think that loss comes either this week or next.
Notre Dame isn't a team I totally trust, but South Bend is a tough place to play and when you look at how they each did against Syracuse – it's worth a shot.
Notre Dame +3.5


UCLA vs. Arizona State Betting Tips:


Bet Horse Racing - +£21,565.98 profit on £25/pt staking. Click for more details.
(Advertisement but we have tested it out and have been quite impressed with it)
Follow @SBTSportBetting