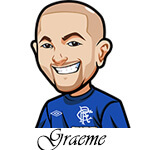 Unfortunately no wins last week in the golf.
Both Snedeker and Thomas put on solid fourth round performances and that was the type of thing I expected from them the majority of the tournament. Not that it would have mattered. Koepka was absolutely phenomenl after a slow start.
Garcia no surprise won the Valderrama Masters. At those odds he was unbettable but congrats to anyone who took the risk.
Let's get onto this week:
HSBC Champions 2018 Betting Tips:
Boy this is a stacked tournament. I'm really not seeing anyone solid to bet under 40/1 so we'll go with three small bets. Two complete dark horses and the potential winner to hopefully give us something to cheer on Sunday.
Dustin Johnson 8/1 – 1/8u: There's no taking away from DJs abilities. It feels like forever since he last won a tournament although fir him it was only 7 tournaments ago. I felt he had a poor Ryder Cup and has sat out for awhile and all of that could motivate him. Think of when he missed the cut from the Open and bounced back to win the Canadian Open. Or going back to January of last year where he was cut from the Farmers Insurance Open and came back with a third place at Pebble Beach then three wins in a row. Worth a small bet based on motivation.
Matthew Fitzpatrick 50/1 – 1/8u: After that win at the European Masters he struggled at the Links but then looked decent at the British Masters. Okay form at a course he's performed well at he may be a contender.
Pat Perez 110/1 – 1/8u: With this stacked field it'd be a surprise but I think the Arizona native might surprise. He's performed well at this course in the past and I really enjoyed watching him at the CJ Cup. He finished strong there and that momentum may just be good enough coming in here.
Sanderson Farms 2018 Betting Tips:
Aaron Baddeley 28/1 – 1/8u: Baddeley put in a good performance here when the tournament switched here in 2015 and wasn't too shabby last year. He had a solid run of form in the Web.com and looked great at the Safeway Open. Could come in strong.
Hunter Mahan: 45/1 – 1/4u: Strong performer in the wind and did well here last year. Form isn't too shabby coming into this. Worth a small play.
Shawn Stefani: 66/1 – 1/8u Not in the best form but had a 10th place finish here last year and I think will handle the weather conditions well.