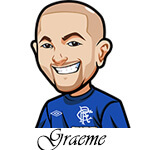 Follow @SBTSportBetting


[Get Exclusive Tips on our Patreon, Ad-Free
]
The first round of games are beyond us and we are onto the 2nd round of matches in the World Cup.
Always prefer this type of things as both teams generally play a bit more openly, and we know what tactics to expect from them during the World Cup. We don't have to base it off friendlies and year old qualification tournaments as well as a bunch of guesswork.
After the first round of games I'm at 7-9 on picks which I'm fine with. A lot of guesswork in the first round of games, and I've been the result of both variance and some bad luck. With unit sizing I'm at -3.47. There's only been I think two teams where I've looked at it afterwards and think yep I had them pegged wrong.
Let's get to it:
Wales vs Iran:
Wales come into this after a true "game of two halves" against the USA. Iran come in off a thumping against England.
Iran played their 5-4-1 against England and it held up well initially. But as England pushed up we saw weaknesses in it. Iran also abandoned that plan as soon as England scored, and that caused them real issues. Theoretically they have to come out more offensively against Wales who are not as strong a team as England.
Wales struggled with USAs high press in the first half, but the changes made at had time were fantastic as they pushed hard on their own and I think we'll see them roll with that into this game – although being a tad wary of that Iran counter attack.
Qatar vs Senegal:
Qatar did not look good in their opening game as Ecuador generally dominated them. I had backed Qatar in that one based primarily on their long training camp where you would assume they could have some team chemistry, and be able to deal with stuff such as the high press.
Honestly though it was a really good tactical game by Ecuador.
Senegal had that cagey match with The Netherlands. I don't think they will press as much as Ecuador did here but they are a defensively sound team and should control the game.
I do feel Senegal have the capabilities to take out Qatar, but I am quite hesitant as I feel Qatars loss was more due to some really smart tactical moves by Ecuador. I'm not going to rule them out just yet. 0.5u on Senegal at 1.68. If they press more, they should be able to take this one.
Netherlands vs Ecuador:
If The Netherlands had a proper #10 they would be a real force. I assume Memphis will start this game which should help them a fair bit.
However like I said I was quite impressed with Ecuador. Sure it was only Qatar but I felt they were very well tactically prepared and really stifled the game. They really sat back as well after going up while never looking stressed.
I'm going with 0.5u on Ecuador or Draw at 2.05. I feel quite good about them but like I said – they did only demonstrate that against Qatar. This will be a much more telling game.
England vs USA:
This is an interesting one because you have to wonder if USA abandon their high press or not, and that could change the dynamics of things.
Wales showed how to adjust to that, plus they're playing better opposition so it might be the best idea. But I just get the feeling that it has that weird "derby game" atmosphere to it and that will impact things.
Follow @SBTSportBetting