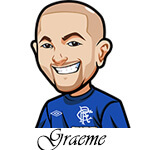 Follow @SBTSportBetting


[Get Exclusive Tips on our Patreon, Ad-Free
]
It was a 2-2 day yesterday, and a slight losing one due to unit sizing.
Won with "Ecuador or Draw". Ecuador deserved to win that one. That Netherlands performance was beyond horrific and they should be ashamed of themselves. Qatar suddenly watching that thinking "huh we might have a chance".
Also won with Senegal beating Qatar which was nice and easy for the most part. I did like seeing Qatar step it up more in the 2nd half and you could see some aspects of their training camp stand out.
Lost the over 2.5 in England vs USA but that was simple variance. The way that game played out, 80% of the time it goes over.
Finally I lost with Wales beating Iran and I'll be straight up here – I 100% got this one completely wrong. I was blindsided by the tactical changes by Wales against USA, and thought that hey Rob Page actually knows his tactics.
I was wrong. So very, very wrong. All you have to do is look at the way Iran sliced them up on the counter time and time again, yet they stick with the 3 men at the back until the hour mark.
Soon as they switched to 4 men at the back? The counter attack was generally foiled. Why they didn't start with that, or at least adjust earlier? I do not know.
England also showed how to beat Iran. Push up, put on pressure. Make them sit back more. What did Wales do? Completely bypass the midfield with route one football.
The thing is – I should know better. I based that pick on that lone game against the USA, and gave them too much credit. They also have no idea how to utilize Ramsay.
I'm glad they lost as they didn't deserve to win. That's one of those bets that will eat away at me. There's been a few losses during the World Cup that were down to either variance or sheer bad luck – but this is one where I completely got it wrong. My apologies if you followed.
I should want to note that I am placing all my bets at Bet365 and that can have an impact on things for me. For example when Senegal went up 2-0 today, I got my early payout for that. Then they also have the bore draw money back special. So something to remember – if you are eligible, bet at a href="https://www.wheretobet.net/go/bet365.php">Bet365 .
Tunisia vs Australia:
Tunisia come in off the draw against Denmark and are favourites here against Australia, who got thumped by France.
Tunisia played solid defensively and narrow and focused on the counter. I expect they play a bit more offensively in this game. In saying that, Australia will be desperate to redeem themselves so Tunisia may sit back and aim to pick them apart.
Australia were just overpowered by a really, really good France team who were very tactically sound. And as silly as it sounds – they made that mistake of scoring a goal too early. It woke France up and they stepped it up a gear immediately. However Australia really did nothing to change my mind about them yet. They still have a Scottish Premier League level defence.
Looking at both teams, I do feel Tunisia are the better side and getting better than 50/50 odds on them, I'm going to take them. 1u on Tunisia to win at 2.22 odds.
I'm also chucking 0.5u on Issam Jebali anytime score at 3.75 – void if he doesn't start. He had the chances in the Denmark game and just didn't have the composure. Now that first game and the jitters are out of the way I think we see him get the ball in the ol onion bag, as a certain Irish commentator used to say.
Poland vs Saudi Arabia:
Poland drew with Mexico 0-0. Mexico played a high attacking game and were able to control the game. Poland had a lot of quality out there so it was a surprise they were able to be overrun like that.
They basically set out not to lose it seemed more than anything else. I expect we see a different Poland here.
Saudi Arabia defeated Argentina via an exquisite team performance. Their communication and how the defence worked together was fantastic. They were also able to take the chances that they made which a lot of teams have been lacking this World Cup.
There were a lot of issues tactically with Argentina. If you go back and watch you'll see so many times that the back four were all one side of the halfway line, and the rest of the squad was high up in the other half. Argentina were basically missing their entire midfield.
So this is where things can get a bit tricky. If you go by the first group games, this game is a dull, low scoring affair that potentially ends 0-0.
But I feel like we don't see that. Poland have the quality out there, and I don't think they'll make the same tactical mistakes Argentina did which Saudi Arabia were able to take advantage of.
Poland should be more aggressive and I'd like to think that the quality they have will show through here. 1u on Poland to win at 1.76 odds.
France vs Denmark:
Denmark can't sit back here. Yeah a draw is not the worst result, but after dropping points against Tunisia they'll want to push here I think. They also did a good job of creating chances against Tunisia even with passive possession.
They had some chances against Tunisia but just couldn't get the ball in the net.
One interesting thing is the game taking place earlier. That has a bit of an impact. If Tunisia don't win for example, a Denmark draw is a good thing for them. If Tunisia win by a couple, then Denmark may push more in this one. It's tough to say how much of an impact the actual goal count will be – but Tunisia just drawing or even losing would change how Denmark play here.
One thing to remember too is goal difference is the tie breaker if points are even. So that leans towards Denmark just looking to limit the damage against France.
So this makes this one very, very tricky. I'd like to see Denmark play more aggressively, but I could also see them attempting to limit the damage.
I'm going with a gut play of 1u on over 2.5 goals at 2.00. It wasn't too long ago Denmark were able to defeat France twice in the Nations League. They shouldn't be scared of them.
I will note I've been going back and forth between 0.5u and 1u for that one. The whole goal difference factor is an issue. But I just feel Denmark should make a go for it here. They also looked a mess in defence against Tunisia.
Argentina vs Mexico:
This will be an interesting game. Argentina like to generally counter attack and use quick balls up front.
The few times we saw Poland do that against Mexico, it looked good. Mexico were panicking on every counter attack.
Argentina – I hope they have actually learned from that game against Saudi Arabia. It wasn't luck or anything like that – it was poor tactics that the Saudis exploited.
Anyway it was the right play last time and I'm going with it again: 1u on Lautaro Martinez to score anytime at 2.75 – void if he doesn't start.
Follow @SBTSportBetting