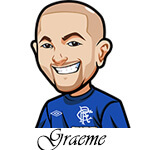 Follow @SBTSportBetting


[Get Exclusive Tips on our Patreon, Ad-Free
]
Monday saw an absolutely incredible performance by Brazil, and for the first time since the World Cup began, they looked like a team who could win the World Cup.
It was a lethal performance by them, and it was nice to see them change the way have been playing. They moved up a gear and dominated Korea. My Brazil -1.5 bet came in with ease. And I luckily called it in regard to not betting the "second half most goals" despite the way previous Brazil games have gone.
Croatia won to keep their World Cup hopes alive, alas they couldn't do it in 90 minutes. They looked like a team – more in extra time – that were happy to wait till pens. They did miss h a few golden chances in the first half I felt.
It's going to make things a lot more interesting with the way penalties went as well. Because now when Croatia play, they'll be more likely to be fine with penalties, knowing they are going in with a lot of confidence. Meanwhile, teams who play them will be less likely to want it to go to pens. Would YOU want to go up against that keeper?
Of course, they play Brazil next so all that is really for naught.
Before I get into the tips, I want to link this article World Cup Penalties: How to construct the perfect shootout.
Really good article. The Athletic is easily worth the $72. What I like is just how in-depth the articles are. These writers aren't just half-assing it to get paid and it shows.
Morocco vs Spain:
Morocco has quite impressed me. They had a solid draw against Croatia, lined up very well tactically against Belgium, then were able to beat the feisty Canada. They go in as BIG underdogs against Spain.
Performance wise, Spain look like Bitcoin over the last year. Started unbelievably well, and just dropping.like crazy. Drawing with Germany, then losing to Japan.
Spain had 83% possession in that Japan game but a 1.1 xG to show for it. A strong Japanese performance in defense helped them there, and I'd rate Morocco's defense even better. Spain only had 19 touches inside the penalty box which is mental.
So do we see similar to Spain? Or do they get that killer instinct going that they had against Costa Rica, and we see similar to Brazil?
Honestly, I just can't back Spain at their odds in any fashion whatsoever. However, it is tricky as this is a big jump in quality for Morocco.
For everything Spain does, their defense has issues. Twice they have had the lead and blown it. Morocco has shown they have the capability for goals.
I'm going with Morocco or Draw at 2.37 in this one. If Spain are able to pull that killer instinct out, so be it. But Morocco has proven to be a hefty defense and can score. Spain are not coming in with momentum and will be feeling more pressure than Morocco. At 5.00 odds, I'll be betting something on Morocco Draw No Bet as well I think.
Portugal vs Switzerland:
Portugal come in after that loss to South Korea, albeit with a rotated squad. They beat Ghana in a 5 goal second-half thriller and beat a dull Uruguay team to make it here.
Switzerland came alive in surprising fashion in the game against Serbia. I did not expect that sort of game there. That was cool seeing that spirit from the Swiss.
Portugal will have the big guns back for this one though. Switzerland overall did a good job against the Serbia offense which is very good. Serbia were also set up very well tactically too actually. Thought they were unfortunate in the way things went.
The Swiss relied a lot on overloads out wide which was a big factor for them and I expect similar against Portugal. However, the biggest change was Serbia deciding after going up 1-0 to stop the aggressive press which I felt was a mistake.
I can't seem to find out yet if Sommer is playing which is a factor.
As I've said in the past, Portugal struggle to hold a lead. For this one, my primary bet is a play only on our Patreon – the people who signed up for the Patreon only tip yesterday picked up a 1.80 winning bet!. A great time to sign up because you won't pay until the end of December so you get the entire month for free. Not happy? Cancel before December 31st and you won't have paid a penny! A month of risk-free betting analysis including NBA, College Football, World Cup and more! Click here..
Follow @SBTSportBetting