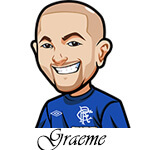 Follow @SBTSportBetting


[Get Exclusive Tips on our Patreon, Ad-Free
]
A 3-1 day yesterday.
I mentioned yesterday I've been lucky once in the World Cup with the betting – well, we can add the Ghana vs South Korea game to the list of lucky wins!
I had the 2nd half to have more goals and with two goals in the first half I thought that was over. The way that game played for 90 minutes? I thought it'd be like that in the second half. I expected a cautious first half but that wasn't the case at all. Nice to see the luck balance out!
Had Portugal to do the business and they did so. And Cameroon and Serbia to go over and that was nice and easy.
Only loss was Brazil -1.5 and that's just pure variance. You know the game is going to go like that, and it's a case of Brazil scoring early enough to open the game up and then counter for another.
If that VAR goal had stood, it would have happened. As it is we should have had that win anyway with a great counter. Alas Vinicius decided to be a greedy bastard when someone else was open. That's just the joy of variance.
Let's get into the final games for each group:
Group A Betting Tips:
Both Netherlands and Ecuador are sitting on four points with a win and a draw. Netherlands play Qatar who have been eliminated, and Senegal play Ecuador.
Senegal need a win most likely Ecuador just need a draw. Netherlands just need to not lose to Qatar although I hope they all be looking to play a better game after last time.
I have a 2u play on the Ecuador vs Senegal game available for just $11 USD on Patreon.
Ecuador went with the two defensive midfielders in The Netherlands game which didn't pan out initially and helped Holland get the goal. But they seemed to smooth things out as things going on and Caicedo and Mendez both played important roles.
In the other game – ugh. The Netherlands were just horrific in that last game. Qatar looked quite good defensively. They did well at interceptions and honestly if Holland come in here not properly motivated – could be a concern.
I'm going with 0.5u on Cody Gakpo anytime scorer – 2.62 odds – void if he doesn't start for The Netherlands. He can score from a few different spots, and I expect Qatar to crowd the box where he can score, and then if he gets in the box same deal.
Group B Betting Tips:
England are the only team on 4 points. For Wales to go through, they need to defeat England and also overcome the goal difference. Wales need to win by 3 goals to guarantee going through, although any win would be enough if Iran/USA draw.
The USA simply need to beat Iran to qualify. Iran need to draw and hope Wales don't win.
USA vs Iran should be a very good one, and I like the Americans to overcome them.
The USA high pressure system should cause issues for Iran. I think after the England game, they will come in with confidence.
Also a lot of people talk about their attacking but look at the defensive metrics for example. Englands midfield had a much tougher game. Bellingham pass % from 85 to 70, Mount from 69 to 49. Smart tactical moves.
Iran meanwhile I just wasn't super impressed with them. England pushed hard and exposed them. Wales were just clueless.
Iran did at least change the way they lined up. The switched from a 5-4-1 to a 4-4-2. Will be interesting seeing what they adopt here. If they go with the 5-4-1 I'd probably do 2u on USA to be honest.
This game could actually be all about the formation by Iran and whether they do something similar like against Wales or line up like they do against England.
I'm going with 1u on USA to win at 2.01 odds.
As for the England game – I honestly am not sure about that one. But I think at the end of the day, they are the better team, and with Wales eventually having to chase, we can go with 1u on England -1 at 2.25 knowing they have the efficient counter.
Follow @SBTSportBetting