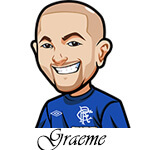 Follow @SBTSportBetting


[Get Exclusive Tips on our Patreon, Ad-Free
]
Hi all,
Welcome to this weeks golf tips.
Nothing from last week except the Berger E/W. Alas, he was tied for the top 5 so it was minuscule profit on that particular bet.
Someone made a comment on Monday which I replied to but also wanted to quickly address it here as it's possible others have this same thought. Here's the comment:
Hi, Even though I don't gamble heavily, I've been following you for years now (golf only) With respect, you have definitely gone off the boil and I wonder if you now apply a different logic to your thinking? The tone of your text has definitely changed to not quite disguised desperation but very close!! Maybe a return to your earlier way of thinking would pay dividends?
The thing with golf betting is it is insane variance. Think about what we are betting. 20/1 odds. 30/1 odds. 40/1 odds. etc etc etc. The odds of them coming in are not great.
It's why from 2014-2020, even though I had 667 unit profit, I only won 13% of bets. My record was 191-1211.
This year I've actually had a positive return on 15% of bets. And it's technically a little bit higher in terms of wins. There are quite a few $250 bets where due to dead-heat rules, I only got $240-$250 back and it's classified as a loss in my record.
Unfortunately, that translates to a 26u loss approx for the year. But that is fairly standard when it comes to my golf betting and is nothing I am concerned about – especially seeing the 15% number.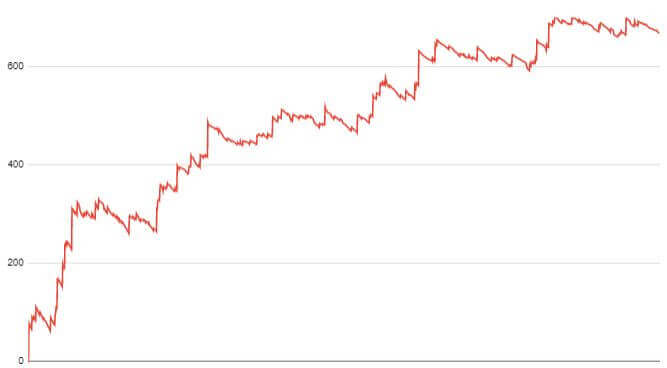 I always feel like this graph sums it up best:
That's my units since I started. One big jump, followed by dropping slowly until a big jump again etc.
The only difference this year is while we're getting the E/W cashes, they're not actually winning. Generally need a few wins and variance has not been our friend on that other than the 55/1 Max Homa at the Genesis Invitational earlier this year.
As an example of the way golf is – Berger finished tied for 5th, two strokes off the lead at the WGC. If he had won that one, it would have pretty much wiped out the losses for the season.
That's something that based on the 15% win ratio, I can easily put down to variance. If my win ratio was something like 8%-9% I'd be concerned.
There's also no "disguised desperation". If there was, I wouldn't be doing Top 10 or Top 20 bets. I'd be doing all E/W bets and shooting for the moon. If I was desperate, Emiliano Grillo would have been a full max units bet at the 3M open, for example.
Anyway just wanted to do a quick explanation of that, and thanks Dave for commenting and bringing it up. Looking at everything overall this year, I'm quite happy with it. Would prefer to be in the green of course! But it is what it is and I have no concerns.
Hopefully, variance goes our way over the next little while.
Let's get onto this weeks tips:
Wyndham Championship Betting Tips:
Quite a few players on the bubble going into this one so should be a good one.
The two favourites are Webb Simpson and Hideki Matsuyama. Honestly, either are worth betting. I'd probably lean Hideki myself with his approach play lately.
Hideki has burnt me too many times in the past, however. Webb – I mean I love the guy and he has made me a lot of moolah over the years. The odds are just too short for him though in my opinion. A top 5 bet isn't the worst but I don't feel super comfortable about it, regardless of his course form.
$62.50 on J.T. Poston at 80/1 E/W
A previous winner here, and the last few performances we have seen from him have been solid like the 3M Open and Barbasol. Doesn't really stand out on the metrics too much but the price is right.
$62.50 on Ryan Armour at 90/1 E/W
Hovers around the Top 20-25 on the metrics. Made the cut here 4 times in a row with two Top 10 performances. Also putting $30 on him to finish in the Top 10 at 7/1.
$62.50 on Seamus Power at 50/1 E/W
If he had course form this would be a lot higher but hasn't scratched the Top 25 in 4 attempts. Should be suited for this course, last we've seen of him it was exceptional form.
$62.50 on Mito Pereira at 66/1 E/W
Hell of a price considering how well he is playing. Should do well on this course.
$50 on Doug Ghim at 70/1 E/W
No real course or current form but just a pure numbers-based pick.
Follow @SBTSportBetting