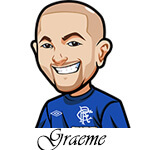 Follow @SBTSportBetting
I must admit – one game I am looking forward to most is Belgium vs Algeria. This is the opening game of Group H, and kicks off on June 1th, 2014.
Belgium have a lot of great individual players – but one thing they don't do really is play with full backs. Instead they generally go with almost a 4 man centre back defense – which can throttle teams trying to attack, but can also cause them problems against wingers.
It means Belgium will line up very narrow, and with the tight marking they utilize it causes problems if they are playing against fast players. While Belgium should be considered a top team – against players like Ronaldo, I think they will be a nightmare.
Of course they're not going up against Ronaldo just yet – they're going up against Algeria. However Algeria play with 3 forward players – Slimani, Soudani and Feghouli. These 3 players move around a lot so that's where this game is fascinating for me: in what is generally going to be a narrow game, will Belgiums defense be able to hold off the fast movers of Algeria?
Algeria vs Belgium Betting Odds:
Algeria To Win: 15/2
Draw: 16/5
Belgium To Win: 1/2
Over 2.5 Goals: 23/20
Under 2.5 Goals: 4/6
The best odds for Algeria vs Belgium
Belgium vs Algeria Betting Tips:
This is one game unfortunately, where we just feel there are too many unknowns to accurately make predictions. Everything seems like a coinflip.
We do believe Belgium will beat Algeria. Our simulations suggest that. But 1/2 isn't the most attractive price.
I wouldn't blame you for going with that – but Algeria are over 2.5 goals at 63% against tough teams. While Belgium are good defensively – Algeria COULD tear them apart.
This is a very, very intriguing game and when it comes to betting the winner – I'd stay away for now.
However if you want to bet on it – what you need to do is look at the best way to do it. If Belgium are going to win, then they will most likely strangle the game and their defense will stand up well. We can see a slim Belgium 1-0 as they hold the ball and control the game.
So based on that – I'd look at Belgium & No in regard to the result and both teams to score double that you can bet. Go with Belgium & No at 6/5 odds. We get a good price there for that.
I wouldn't do Under 2.5 or Over 2.5 goals either – this game can really go either way, and the odds generally reflect that. You're essentially betting on a coinflip with either choice.
Recommended no bet, but if you like Belgium then up the odds with Belgium & No in regard to Team winning/Both Teams to score at 6/5 odds. .
Belgium vs Algeria Betting Props:
We mentioned one above – Belgium & No in the Results/Both Teams To Score bet.
Again we have to go with Belgium when we're looking at these. Belgium HT/FT 1-0/1-0 is attractive.
However I'd go for a much safer Belgium-Belgium 5/4 bet. That means they will be winning at half time and will also win the game. That is a decent price for that one as you have to expect them to come out and dominate the game.
Personally though we'd stay away from this game.
Follow @SBTSportBetting