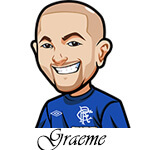 Whew – what a World Cup it is shaping up to be.
One thing you're always worried about when it comes to the World Cup is a lack of goals or excitement – especially between the big teams. We're not seeing that here! There has been some great games already – England vs Italy was excellent to watch, and I really like that England attack I must say. If they can get the chemistry right they could be lethal.
Yesterday in the betting blog I won with my Columbia to beat the Greeks bet, but I also bet on no goal before 38:00. I said I was regretting that after placing it and of course there was an early goal – that was one where I was influenced by a friend – and while it wasn't a bad bet, I am kicking myself as I should generally stick with my own instincts.
I went with Uruguay to score in both halves and lost that – 6/4 price on that though and I think that was great value either way. No regrets there. I had Over 0.5 goals in the first half at 4/7 odds, and obviously won that. I also had over 5 corners, which I unfortunately lost. That was a silly bet where I should have waited and looked at how the teams were lining up etc before going with something like that.
I also won with Over 2.5 in Ivory Coast vs Japan. That game worked out perfectly – without Drogba, Ivory Coast were flat. He comes on and it gives them an instant lift and they score twice? Yikes – that's perfect for Ivory Coast and is going to motivate them whenever Drogba is in the team now. If I'm their manager, I'm keeping him on the bench every game and bringing him on later on for that same lift.
For June 15th, I'm going with:
Switzerland vs Ecuador: I really like the Swiss. I enjoyed the way they played during the qualification stages. Ecuador struggle to keep a clean sheet, and I like scores of 1-0 or 2-0 for the Swiss. However I am going to play it safer and go with the Switzerland win of 11/8 – $100 on that.
France vs Honduras: In our initial simulations, Under 2.5 goals was the favourite. What's interesting though is the goals in the World Cup so far have drastically changed odds – Under 2.5 goals was initially 13/20 now it is 43/40. A MASSIVE price change. I'm going to go with France-France as in France leading at half time and full time with $100 on that. I'd like to hit the Under now the odds have changed so heavily but the amount of goals so far is putting me off.
<strong.Argentina vs Bosnia: I really like the Bosnian team, and I think they're a big price here. I'm going to go with the underdogs in this one but play it cautious – Bosnia at Draw No Bet for 6/1 odds. If it comes off great – if not oh well.