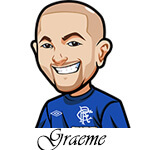 It went as we predicted – Honduras and Ecuador both lost their initial group matches. The Fantastic French dominated the Horrible Honduras, while the Super Swiss defeated the Easy Ecuador. Boy – with lines like that, I should be writing for The Sun.
So now Group E will see Ecuador face off against Honduras, with both teams bottom of the group.
Honduras will hope for a much better outing than against France. The French controlled the game, and Honduras didn't really put much into their attack. They simply wanted to contain France and not let them score – and to their credit, they were doing that fairly well. France were struggling to find the goal until the sending off and penalty. But against Ecuador, if they want to actually qualify from the World Cup, they have to do something other than sit back and punt the ball away hoping for the best.
Ecuador meanwhile will feel gutted at the loss against Switzerland, when a point was in their grasp. Switzerland did look the better team there though and honestly deserved the win, as heartbreaking as it was.
Let's check out the Ecuador vs Honduras betting odds, then try and come up with some Ecuador vs Honduras betting tips:
Ecuador vs Honduras Betting Odds:
Ecuador To Win: 8/13
Draw: 16/5
Honduras To Win: 5/1
Over 2.5 Goals: 4/5
Under 2.5 Goals: 1/1
The best odds for Honduras vs Ecuador
Honduras vs Ecuador Betting Tips:
Call me crazy – but I think Honduras could upset the odds here.
Our computer simulation has them priced at about 7/2. So it's a tough bet to make – and during the World Cup, it's hard to make value bets. But man – I actually almost like Honduras.
Against France they practically passed the ball to the French constantly inviting them to bring it on – yet France could not break them down until they had a goal advantage and a one man advantage.
We know Honduras can score. They did it in qualifying, beating USA 2-1 and drawing 2-2 with Mexico who the then beat 2-1 in their second match.
Honduras are an interesting team. I've watched most of their qualifying matches and there are a lot of jekkyl and hyde performances from them.
This is one game where it's real tricky to bet – but I'm recommending a small bet on Honduras. I do believe they have the ability to upset the apple cart.
You could even go for Honduras/Draw meaning all that matters is Ecuador not winning. 13/10 odds on that one.
Over/Under – for me, I'd also go with Under 2.5 goals. Honduras defense is solid as it is, and I don't see them imploding like they did against France.
We recommend a rather risky bet of Honduras to win at 5/1, and the Under 2.5 goals is appealing too.
Honduras vs Ecuador Betting Props:
No betting props. Honduras to win is enough for us.