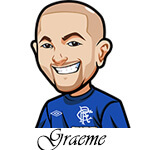 Follow @SBTSportBetting


[Get Exclusive Tips on our Patreon, Ad-Free
]
Well – the challenge is sort of over with for now.
My Bet365 account, which was at exactly $5,000 prior to the World Cup, is now at exactly $0.00.
Oops.
It happens, and it's not the end of the world. I was prepared to lose the $5k – hell the title of this whole thing is "$10k or Bust". I just didn't expect it to go that fast.
Frustrated after I didn't bet big on what I felt were two sure things – lots of goals in Holland vs Australia, and Croatia to win, I ended up going all-in yesterday on the Italians.
And it backfired.
I still have $2500 on outstanding bets – all of them are spread over Top Team Goalscorer bets. With some teams having played just 1 game so far – it's tough to judge how they will do. I expect to get SOME money back, and I'll be going nuts with that.
In the meantime, I'm going to do one of my favourite betting challenges: try and run nothing into something, by betting on massive favourites.
I checked one of my sportsbook accounts, and I have $100.65 at bet-at-home.com.
Perfect.
While we're waiting for top team goalscorer payouts, I'm going to see if I can run that $100 into $1,000. Ultimately harder than $5k into $10k but we'll see how it goes. My betting strategy was a mess for $5k-$10k honestly – the best thing would have been to wait for a few "sure things" and go with those.
So today we have 3 games, and here's what I'm going to do:
Argentina vs Iran: I'm going to go all-in on this one, betting Argentina-Argentina half-time and full-time. Bit of a risk but I have to hope Argentina are on the ball here. That will hopefully bring me to $145.94.
Germany vs Ghana: I will then bet all the winnings on Germany to win. 1.30 odds as I write this, so that will get me to $189.72 if it all goes well.
Nigeria vs Bosnia: I will then risk $89.72 on Bosnia to win.
If all goes well with the three bets then I will end up with $230.09 having doubled my stake. And if not – no big deal, start again the next day.
Follow @SBTSportBetting