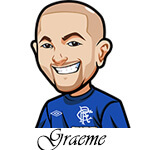 Follow @SBTSportBetting
Welcome to Part 3 of my NFL Betting Tips for Week 4 of the NFL Season.
You can see where I cover the earlier games in Part 1 and Part 2.
Overnight, late news came in that a Saints player has COVID and everyone is getting tested. However I didn't make a bet in that game so it is all good.
If I had I would likely advise you not to bet it. With such late news you never know what is affected and whether the players will even have their heads in the game or not.
In saying that I may still have a play in the Chiefs vs Patriots game if it ends up going ahead. We'll see.
For now let's look at the remaining late games taking place on Sunday and then tomorrow I'll be back to cover the Falcons vs the Packers.
NFL Week 4 2020 Betting Tips: Late Games
Giants at Rams Betting Tips:
The Giants are whopping 13.5 point underdogs here. Jones is struggling a fair bit and this should be another tough game for him. Rams meanwhile? I see potential there. I think they're getting better and we are seeing what McVay has going on and it could be good for them.
The point spread is a lot. Giants did lose by that much the 49ers. Rams have been putting up the points. I hate these massive point spreads so you may wish to work some magic with it yourself but I'm good with 1u on Rams -13.5.
Bills at Raiders Betting Tips:
Hear's the deal; the Bills scare me. I've made money thanks to them this season yet they scare the crap out of me. Everyone is talking about the Falcons collapses but not the Bills near collapses. They are lucky to be 3-0. I love the Bils too. Allen is crushing it and on paper their defence is excellent.
Raiders defence looks good until you remember what QBs they have gone up against. Lost Arnette too. Should be a good game for the Bills. Carr on paper with no Ruggs and Edwards likely should get destroyed.
This is one of those games that on paper is the "lock of the week" or whatever nonsense you want to say. On paper this is the one that every single person will be thinking it is a complete gimmie and will be betting it all on the Bills. I had a quick look on reddit and Twitter and yep I'm seeing the words "lock" and "Bills" thrown about. Ugh.
Things like this are very, very tough. I'd love to take the Raiders having watched every Bills game super closely this season and seeing their issues and coming off like a genius – but the thing is on paper the Bills should dominate here. What I would suggest doing is betting them but being extremely cautious about it. I'd like to skip this game altogether to be honest, but with the Raiders offensive injuries I feel it would be a mistake.
1u on Bills -3.
Colts at Bears Betting Tips:
I'm still not used to Rivers being on the Colts. When I bring up the stats and see Rivers name first I think "oops clicked the wrong game" then realize my mistake. Colts are 3 point favourites here.
I won off the Bears last week although boy was that a dirty little victory eh? Hell of a win though. Bears defense should stifle Rivers now he is wothout Campbell and Pittman too. Foles is Foles. I think he might struggle a bit against the Colts. This will be a tight one but I think the Bears can take it. 1u on Bears -3.
Colts are 3 point dogs.
Eagles at 49ers Betting Tips:
The 49ers are 7.5 point favourites here. Despite their injuries, the sportsbooks like them. Not a surprise I guess considering how bad Wentz has looked. It's unreal how bad that Eagles offense is. Problem is it is too many injuries for me. No bet. In prime time it wouldn't surprise me if the Eagles come alive and I'll probably bet them with the points just to have a bet here. However I can't say it with any level of confidence at all.
Follow @SBTSportBetting